Game Of Thrones hasn't just been one of the biggest, most watched TV shows of all time. It's also been one of the most consistently critically acclaimed.
Until this final season that is…
Yes, the show pretty much went off the rails about a third of the way through Season Eight, at least in the eyes of most fans. And TV critics. And those people with way too much time on their hands who think they can solve things with petitions.
Related: Sophie Turner, Whose Character Got A Perfect Ending, Blasts Fans Asking For A Season Eight Do-Over
That sudden depletion of good will may have left someone in a very awkward position.
Someone besides Emilia Clarke, we mean. (Girl sounds like she did not like where the show went either.)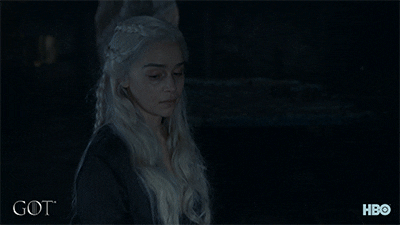 No, we're talking about Emmy voters.
See, often when a show leaves the air, the final season gets rewarded with some extra gold. A sort of farewell gift to a great show.
Considering what an awards juggernaut GOT has been in the past — the show holds the record for most Emmy wins with a whopping 47 — it made sense for the same to happen for them.
Until the season came out, that is.
Related: Sophie Turner Blames Kit Harington For Coffee Mistake
We doubt they'll have any trouble with all the technical awards. The CGI dragons, real pyrotechnics, and completely handmade breakaway cityscape of King's Landing deserve all the honors.
But when it comes to the writing, well, that seems to be far and away the big complaint critics have about the way the show failed to stick the landing.
Instead of hedging their bets, HBO has only submitted one episode for Outstanding Writing.
Obviously the critically acclaimed Episode Two, A Knight Of The Seven Kingdoms, right? The dramatic high point of the season before all the logic and character arcs got all muddled?
YOU'RE crying!
Nope!
They submitted the finale.
That means only David Benioff and D.B. Weiss are up for it, and only for the most reviled episodes in the show's history.