We have a serious question right now. Is Meghan McCain living her best life by embracing her role as a heel??
OK, hear us out.
We've been thinking the pundit turned daytime TV star was just bad at her job based on her apparent inability to have spirited debates without perceiving personal attacks and persecution at every disagreement.
Forget the fact her political arguments tend to be woefully underdeveloped, she just doesn't seem to listen to her cohosts.
Related: Meghan 'Isn't Trying To Make Friends'
But what if that's what's revving her engines? What if she LIKES going all Billie Eilish and playing the bad guy??
Take this week for example.
The View crew took on Keeping Up With The Kardashians on Tuesday, specifically the moment previewed this week in which Kourtney Kardashian cries over the idea of turning 40.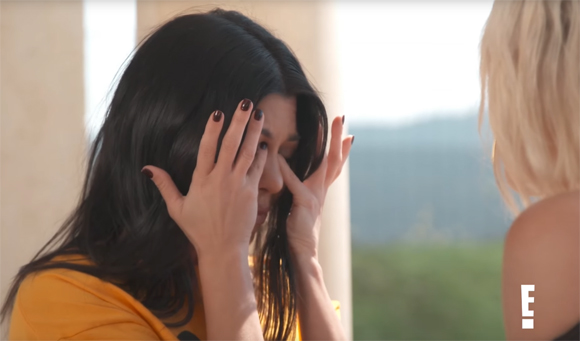 (c) E!/YouTube
Whoopi Goldberg openly teased the emotional outburst, but you know what? She's 63 years old. She looked death in the face this year after a bout with pneumonia.
If Whoopi wants to make fun of the relatively young and vivacious star, that is frankly her prerogative. Whoopi has earned it.
BTW, Sunny Hostin is 50, and Joy Behar is 76. They too have some experience having crossed this threshold in their lives.
But Meghan is 34. She isn't even CLOSE to turning 40. So really, let's be honest, she has no idea what she's talking about. So what was her take?
Compassion? Empathy? Putting herself in Kourtney's shoes?
NOPE! She went straight on the attack!
She declared:
"I'm in my 30s, man, and I'm with Whoopi on this. Not to be, like, Debbie Downer on this… you have all the money, opportunities, life advantages in the entire world. There are people that can't feed their children."
Um, OK. Kourtney even says that in the clip y'all showed. It's not news to her. But what she's seeing is the fact all that money never bought anyone more time.
Kourtney is getting to the top of the hill and looking out on the horizon of her own mortality,